LOVE CHAI
Shop Our Alluring Love Chai with Roses and Cardamom
Meet our utterly romantic Love Chai, a beautiful blend of organic roses and cardamom paired with naturally brewed, flash-dried & ground Assam black tea, ground organic botanicals including black peppercorn, cinnamon, cloves, ginger, and nutmeg. All the goodness of our traditional Heirloom Chai, with a touch of romance. ❤️
Naturally Caffeinated
Net wt. 3 oz.
Makes up to 100 8oz cups - That's $0.26 per cup!
Wooden scoop included
Ingredients
Our rose masala chai powder gets its signature flavor and aroma from a fragrant blend of naturally brewed, flash-dried & ground Assam black tea, ground organic botanicals: rose petals, green cardamom, black peppercorn, cinnamon, cloves, ginger, nutmeg.
Gluten-free, vegan, naturally caffeinated.
We never add any sugar or milk products to our chai blends.
How To Make Love Chai
It's never been easier to serve a cup of love than with our rose chai. The fragrant masala chai rose powder effortlessly dissolves in hot water and milk of your choice.
No tea strainer necessary which means no mess and no stress. Just stir, sip and savor.
Why Choose Love Chai?
Roses are prized for their fragrance and beauty and known as the "Queen of Flowers" and cardamom is known as the "Queen of Spices" for its complexity of sweetness and earthiness. When combined, they create a bouquet of flavors that delicately complement each other and make for a healthful drink packed with antioxidants and aphrodisiac properties! What's not to Love?! Our chai blends make unique gifts. So share the Love (Chai) or indulge in some self love.
Customer Reviews
Write a Review
Ask a Question
Yummy!
I'm so glad I finally tried this, love how the flavors develop as you sip. Have had a hard time finding a chai that doesn't taste weak when mixed with non-dairy milk, and this definitely holds up!
07/13/2022
sorrow j.

United States
Yes it is love
This is my absolute favorite, The rose is not overpowering but adds something very special and the color of the drink is luscious.
06/19/2022
Robey L.

United States
Chai
I really enjoyed the chai
06/11/2022
Mary H.

United States
Love this chai
I have tried many Chai blends, this one was and Heirloom Chai are now my favorites. I do like mine strong so of course I use more, so wish the price was less. But still will be my go to for afternoon treat.
06/10/2022
Barbara G.

United States
Amazingly delicious!
This chai is not sweet so you can use and adjust to your own taste. It's probably the best chai I've had (I bought both). I make it hot and with oat or almond milk with a touch of agave to sweeten it a bit. There is a delicious kind of nutty flavor to the original one and the spices are beautifully blended for the perfect chai. I will definitely buy again. Thank you!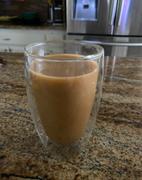 7 Botanicals
Vegan


No Sugar


No Artificial Ingredients
No Milk Products


No GMO's


Love Chai FAQ
What is Love Chai?

Love Chai is our blend of masala chai made with ground botanicals including roses and green cardamom along with cinnamon, black pepper, ginger, nutmeg and cloves and brewed and powdered black Assam tea. All the spices and flowers we use are organic.
What does Love Chai taste like?

Love Chai has a delicate, floral and subtly spiced profile thanks to the organic roses we use along with the traditional flavors of masala chai including cardamom, cinnamon, black pepper, ginger, nutmeg and cloves and brewed and powdered black Assam tea.
How is Love Chai different from Heirloom Chai?

Love Chai has a more floral, less spicy flavor than our Heirloom Chai mix. That's because we use less of the spices of Heirloom Chai that include cinnamon, nutmeg, cloves, black pepper, and ginger. And we increase the amount of green cardamom and add in roses to the brewed and powdered black Assam tea.
So roses are edible?

Yes! We use organic roses from Iran and India that are prized for their fragrance and potency. Just as Holland is known for its tulips, so is Iran known for its Persian Rose.
How do I make Love Chai?

Use the same Mug or Stove Top Method for all our chai blends. Learn how to make chai.
Do I need to add sugar?

We recommend sweetening your chai just a bit to enhance the floral and spice flavor. Feel free to use any sweetener you prefer.
Is there caffeine in Love Chai?

Yes, we use Assam black tea from India that has been naturally brewed, dried and powdered. The caffeine content is about 60mg per cup. By comparison, a cup of coffee has about 100mg of caffeine.
What milk can I use?

Feel free to use any type of milk including non-dairy products like oat or almond milk.
Does rose chai make a good gift?
Of course! While you can enjoy our rose chai tea at home, you can also share the love by gifting this authentic chai with rose petals. Our Love Chai makes the perfect gift to celebrate romance, whether that's a wedding, engagement, or even a birthday.