LOVE CHAI
Meet our utterly romantic Love Chai, infused with organic roses and cardamom, a beautiful pairing with whispers of floral sweetness. The foundation of Love Chai includes Assam black tea and rich organic spices that are found in our Heirloom Chai; all the goodness with a touch of romance. ❤️
Naturally Caffeinated
Net wt. 3 oz. makes 100 8oz cups
Wooden scoop included
Ingredients
Ingredients - Naturally brewed, flash-dried & ground Assam black tea, Ground organic botanicals: rose petals, cardamom, black peppercorn, cinnamon, cloves, ginger, nutmeg.  Gluten-free, Vegan, Naturally caffeinated.
Customer Reviews
03/05/2022
Laurel B.

United States
In Love with Love Chai
I am a huge fan of the Heirloom Chai and it has become a favored part of my morning routine. I was honestly slightly unwilling to vary from this routine but wanted to give Love Chai a chance. So glad I did! Now I have two favorite ways to begin my day and I can mix it up for some variety.
03/05/2022
Patricia W.

United States
Tastes amazing. I'm in love
I love my chai. So simple to make and tastes wonderful. I love the way it smells and tastes. All the right spices.
02/20/2022
Nimisha C.

United States
Love chai.
I purchased Love Chai for my husband for Valentines Day! He is a chai lover and loves testing out new ones. He absolutely loves this chai! It is so flavorful and comforting and It is so easy and convenient to make. It is a great "pick me up" during the day while working and during meetings. He froths the milk in his Espresso machine which makes the milk thick and creamy! Will definitely be buying this again! Thank you!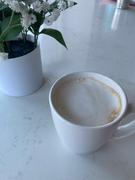 02/18/2022
Nan I.

United States
Love Chai
Love the Love Chai!! We ordered it for our Valentines and Anniversary celebrations and also can't wait to serve it to our guests with dessert this weekend! So unique and so delicious! Thank you chai.com!!!
02/16/2022
Aassia H.

United States
Delicious!
It was perfectly flavored and delicate. We would absolutely buy it again.
7 Botanicals
Vegan


No Sugar


No Artificial Ingredients
No Milk Products


No GMO's


Heirloom Chai FAQ
Does your chai have sugar or milk-products?

Nope. We've created a clean product that allows you to sweeten as you please and use any type of milk that suits you!
So, I don't need a tea strainer?

Nope. We've blended ground organic spices and naturally brewed, flash dried tea that's ground to a powder and dissolves in hot liquid. You get all the nutritional benefits, without the mess, or strainer
Where do you source your ingredients?

Our black tea comes from the nutrient rich hills of Assam in the northeast region of India. Our organic spices are grown in India, Guatemala, Indonesia, Vietnam are all certified organic.
How much masala chai do I add?

We've made it error-proof. Just use the little wooden spoon we provided. For an 8 oz cup, use 1 scoop of Masala Chai. Super easy!
What is Masala Chai and how is it different from chai tea and chai tea lattes?

"Masala Chai" is a Hindi term that means "Spiced Tea". Our masala chai is a blend of organic spices and naturally-brewed, dried and powdered Assam black tea.
There's sediment in the bottom of my mug. What is that?

That's the ground organic spices that gives chai its amazing flavor! Think of it as the glitter of the party!
This chai has a kick! What makes it spicy?

We use certified organic black pepper that's known for its punch of flavor. That strong flavor is filled with powerful antioxidants that are fighting off free-radicals roaming around our bodies. Think of it as a 1-2-punch to impurities.
What kind of milk should I use?

We prefer Organic Milk, and a favorite second is Oat Milk. But any kind of milk works with our chai.